2023  NEW Dates !
January 30- Feb 3-closed
March 20-24-closed
March 27-31
July 31- August 4 
September 
November 
Please let me know ASAP if you could make one of these weeks. When we have 2 commit to a week I will book it with a maximum of 5 students. If need be I will change some dates to get the most out of the season. A $100 deposit will hold your spot with the balance at the class. First come first in!   Give me a call if you need more info.
Thanks–Jim-417-865-5953
Please let me know to add you to my "Class" E-mail list to keep you updated on new classes or Used Engraving Tools I come across.
Regular class are $950 and you need not bring a thing–I have 5 benches of tools and  every engraving tool known to man.
I have always had an aptitude for teaching and conveying information well and have shared what I have learned over the years with many on an informal basis. In 1992 the old gentleman who taught me engraving, Tilden Swenson of Little Rock, died.  Wanting to continue Tilden's legacy, I put a shop together for lessons and now offer them, on a regular basis, to others with the desire to learn this enduring craft.
Lodging
I have a friend with an AirBnB just a few blocks from my house and shop. The Rockwood Motor Court on Historic Rout 66 https://rockwoodcourt.com
Hotels are also plentiful around the I-44 and Glenstone Ave intersection in Springfield, MO.
Travel and hotel info for Springfield can be found on-line  www.springfieldmo.org
Details
I hold classes of one week with 2 to 4 students. Scheduling will be very flexible depending on both our commitments. The tools used are Steve Lindsay's Palmcontrol hand piece, the Artisan and Classic foot control hand pieces , The Glendo Corporation's  Gravermach as well as the older Gravermeister tool. All tools and equipment will be supplied for your use. Classes will generally be held Monday through Friday from 9 am to 5:30pm in my shop, Cherokee Firearms 1500 W College st, Springfield, Missouri. The cost of a 5 day group class is $950. A deposit of $100 will reserve your seat with the balance being paid when you arrive. Deposits are fully refundable if you have to cancel prior to 7 days from the start of the class.  Motels and restaurants are very inexpensive in Springfield and are near by the shop, as is Branson for your evening entertainment. Additional information will be mailed to you when you reserve your seat.
Tools
sharpening bits
layout and design of script
cutting script
layout and design of scroll
cutting scroll
border design and cutting
background work
We will also touch on:
Inlay
bluing and plating
push engraving
metal preparation
chasing (hammer and chisel)
scrimshaw
---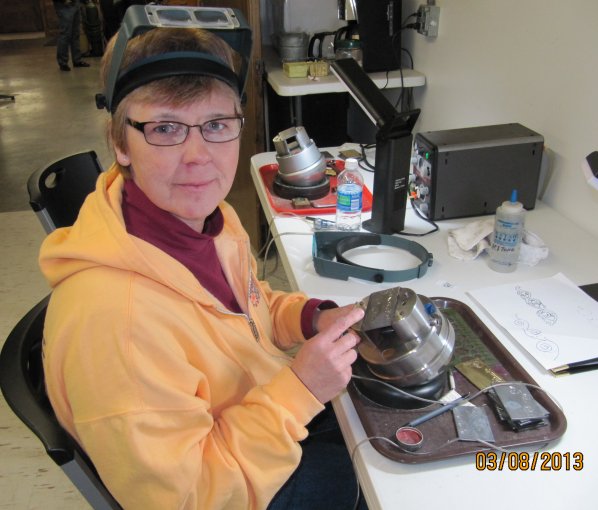 Hi Jim,
Just wanted to take this opportunity to thank you again for sharing your engravingtechniques and experiences in class last week.  I was pleasantly surprised by the wealth of information you were able to supply us with in such a short time frame.
I had been a researching about a year for equipment, information and classes and had actually decided on a different course when I happened upon your website.  I liked the fact that you offered multiple engraving systems so we could try each without a "hard sell, have to have" approach.  I also liked the fact your classes were not more that four students at a time so I knew there would be plenty of one on one instruction.  What I hadn't counted on was your ability to teach.  After viewing your picture gallery I could see you are a very talented gun engraver but many times talented craftsmen are not good teachers.  I was pleasantly surprised.  You are a great teacher!  You have a wonderful way of offering encouragement and constructive criticism at the same time.  As abeginning student, those words inspire me to work harder for perfection.  Your syllabus is also well suited for beginners.  You introduce the concept, show us how, allow us to try, then built on that concept to the next.  By the end of the week we have enough information and practice to move forward on our own.  The rest is up to us.
Thanks again!
Tonya Mcfarland
Tonya, a student from Missouri
---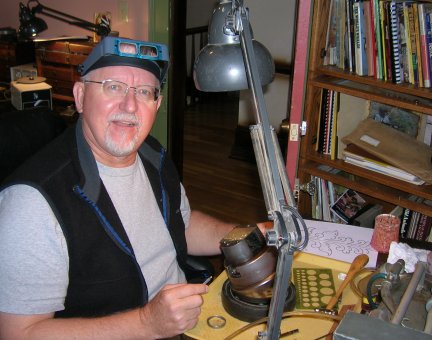 Jim O'Hanlon, A student from Florida
Dear Jim,
First of all, thank you for your hospitality. I enrolled in your beginning engraving course several months ago, I knew you a little bit from meeting you at shows, but I really did not know what to expect. You created a warm atmosphere in your home and made all of us students feel welcome and relaxed.
I have never touched engraving tools before this class. Your teaching skills used classic adult learning principles: first, you showed us how to do it and how to draw the design, then you had us do it and draw the design, then had us do it some more! Your style is encouraging, but realistic. If we did not get it right, you told us to 'do it over' and that after a few thousand times…….
We all made mistakes and you helped us learn from them. I goofed on sharpening a tool with too much heel, saw the results, then you coached me on cutting it correctly and seeing the results. We all came away with examples of our work and I know that there is a lot of practice involved.
The best part of your course was that you made us all do the basic cuts, letters, numbers, shapes, and then you took us to scroll. That put it all together on the last few days. In addition, I knew nothing about inlay, scrimshaw, and about transferring design. You taught it all in basic form. We even learned chasing and other techniques (which made us appreciate the modern equipment even more).
I really enjoyed the range of equipment you had available: GRS's Gravermeister and Gravermax along with Lindsay's foot and palm control engraving tools. We got to try them all and decide which we liked the most.
My personal thanks to you for selling me your used equipment at reasonable cost. That , in addition to your 'real world list of what you need', the reference materials, and the simple but most important drawings of scroll cuts, leaf cuts, and their order of cut really made it clear to me the 'how to's'.
Thanks for offering to be a continuing coach and give honest feedback. I hope to practice a lot and send you some plates someday for your critique. Thanks again to you, Nancy, and Tater for the hospitality and good learning experience.
Sincerely,
Jim O'Hanlon
---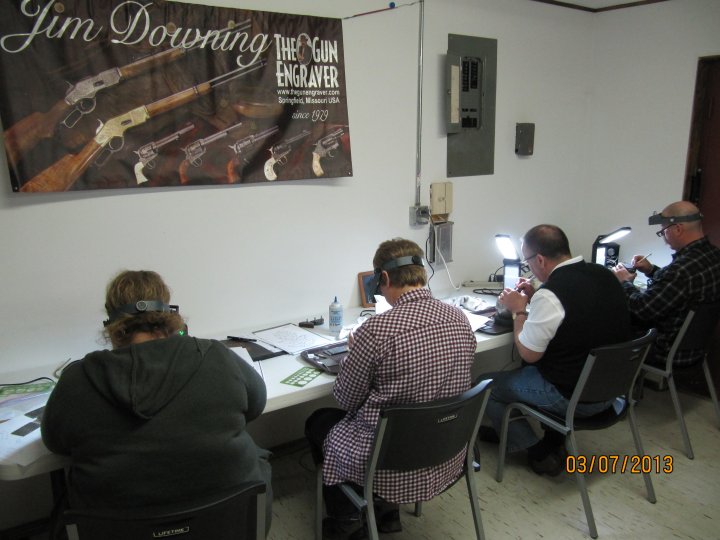 Jim,
I want to thank you for taking the time to provide the private engraving class this last week. I was not sure what to expect when I arrived. You provided an environment conducive to successful learning, and the encouragement to try each technique presented. You were able to present the next method in a way that was clear and concise. You would then physically show me the method on the material being worked. This made it easier to follow suit and attempt to replicate the technique. While it is clear that a lot of practice is necessary to become good at each step, I was able to see progress in just the few days in class. You always provided praise when appropriate, and constructive criticism where needed to ensure that good habits and correct procedures were learned and used.
The ability to try tooling from multiple manufacturers made it possible to determine which tool would be best for me to purchase. With the costs associated with this tooling it is nice to know that I can make that purchase with certainty that I made the right decision. I feel that I have the knowledge and experience to continue with my learning on my own. I know that it will require a lot of practice, but I have the foundation I need to be successful. Thank you for the opportunity to learn, and your willingness to share your skills with others.
Best regards,
Anthony Hershberger
---
Jim,
I wanted to tell you what a really great workshop you conducted…and let me tell you, I don't say this lightly. I've taken many, many workshops on a myriad of topics ranging from lapidary to stone setting to raising to making a set of chasing tools. And, to top it off, I had 29 years in a classroom. That makes me a pretty tough critic, if I may say so myself. I love learning with a master, and you are just that. What a gift that you are also able to impart that knowledge to others. Not all masters are teachers…. Now, if I could just master that skill even a tiny bit more…that would help me to justify the cost of that darn Lindsey tool…….

All the best, 
Meri Ellen
---
On July 18th '16 I met Jim Downing and started his engraving school. I can't begin to say how impressed I am with Jim. His 37 years of experience are very impressive . In a week he brought so much knowledge to me and the others in that class that we all left knowing we could continue on towards our individual goals. If you are considering going to an engraving school, Jim is highly recommended.
---
I just spent a week in the engraving class with Mr. Jim Downing. My first impression was- He could be Sam Elliot's stand-in! He turned out to be an excellent instructor and a very interesting guy.
We were a small class and he treated us like family. He was patient with me, as I had never done anything close to engraving before, while also challenging the other student, who had some experience and natural talent. He was honest in expressing the dedication it takes to achieve something close to his abilities and shared valuable information on where to purchase the equipment, as well as what to avoid. He showed us different techniques and applications.
I highly recommend taking his class, as he is doing a service to the trade by sharing his incredible skill with all those who seek to do the same.
Kay HawkinsHuntsville, Texas November, 2020